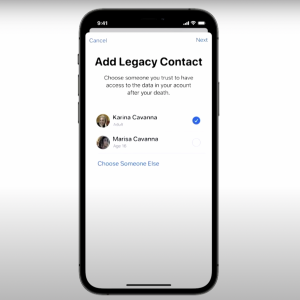 5 things to know about Apple's new Digital Legacy feature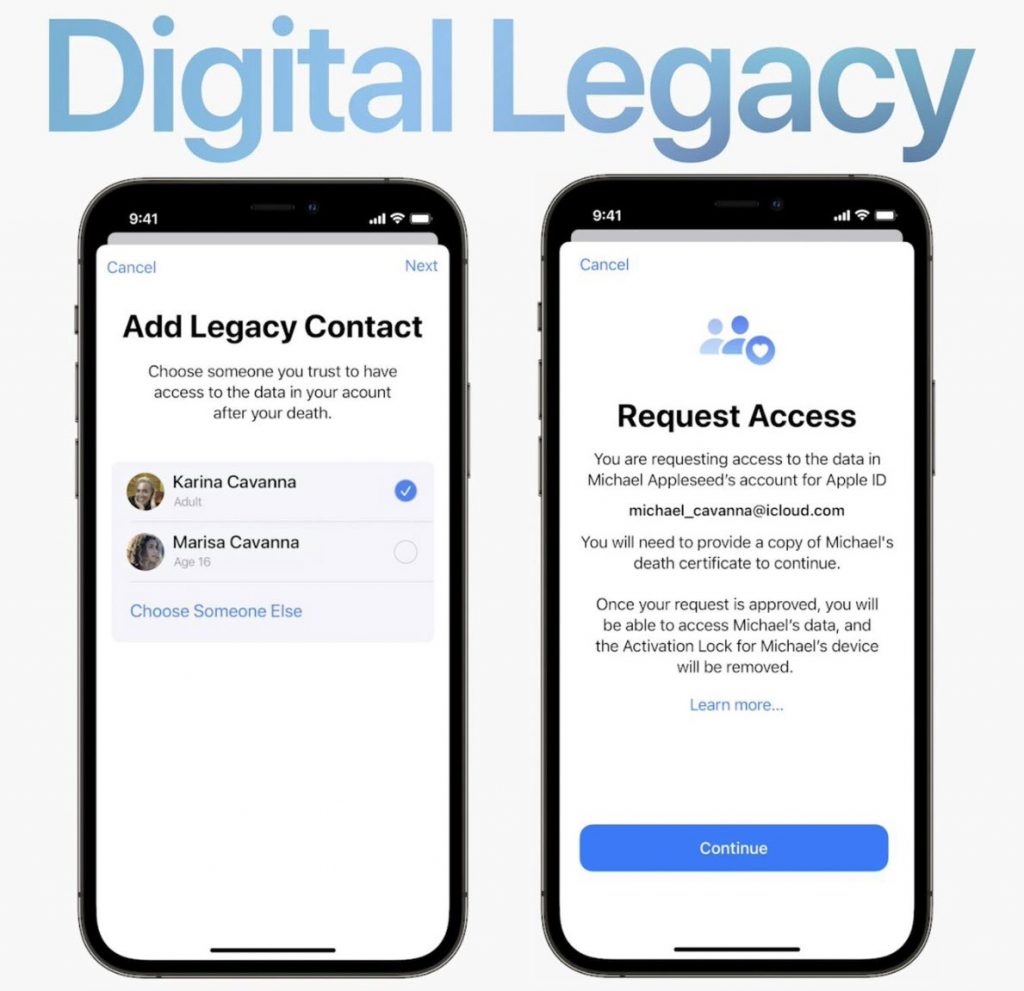 Updated on December 14, 2021: Digital Legacy functionality is now live!
At Apple's Worldwide Developers Conference 2021, one of the new features announced for iOS 15 (available on iPad and on macOS Monterey) is Digital Legacy, the ability to select a Legacy Contact. Although the feature only received 14 seconds of airtime in the keynote, the teaser screenshots have received a lot of interest. 
What do you need to know about Apple's Digital Legacy feature?
1. You'll need to set it up before you need it.
You'll need to pre-select your Legacy Contact by going to Settings > iCloud (your name at the top) > Passwords & Security > Legacy Contact > Add Legacy Contact (this article has a great overview of the workflow) and send an Access Key to that person (once you've selected someone, it will offer you the ability to notify them). Similar to Facebook's Legacy Contact functionality, Apple's Digital Legacy feature will only apply if you select someone before you are incapacitated. If you don't select a Legacy Contact before you need it, most likely your family's only option will be account deletion. Note: Apple requires that your date of birth is correct in their records, so if you haven't used your correct date of birth for any reason, make sure you update that too!
2. Your Legacy Contact will need to submit a death certificate.
Breathe a sigh of relief. Your Legacy Contact won't be able to supervise your iMessages while you're still around, unless you separately give them access. Using the Digital Legacy feature, your Legacy Contact will have to submit a death certificate to Apple along with their Access Key in order to gain access to your iCloud account. Once they've provided both of these, they'll be able to access your email, photos, messages, notes, and more. It doesn't appear that you're able to select which of these items your Legacy Contact will have access to.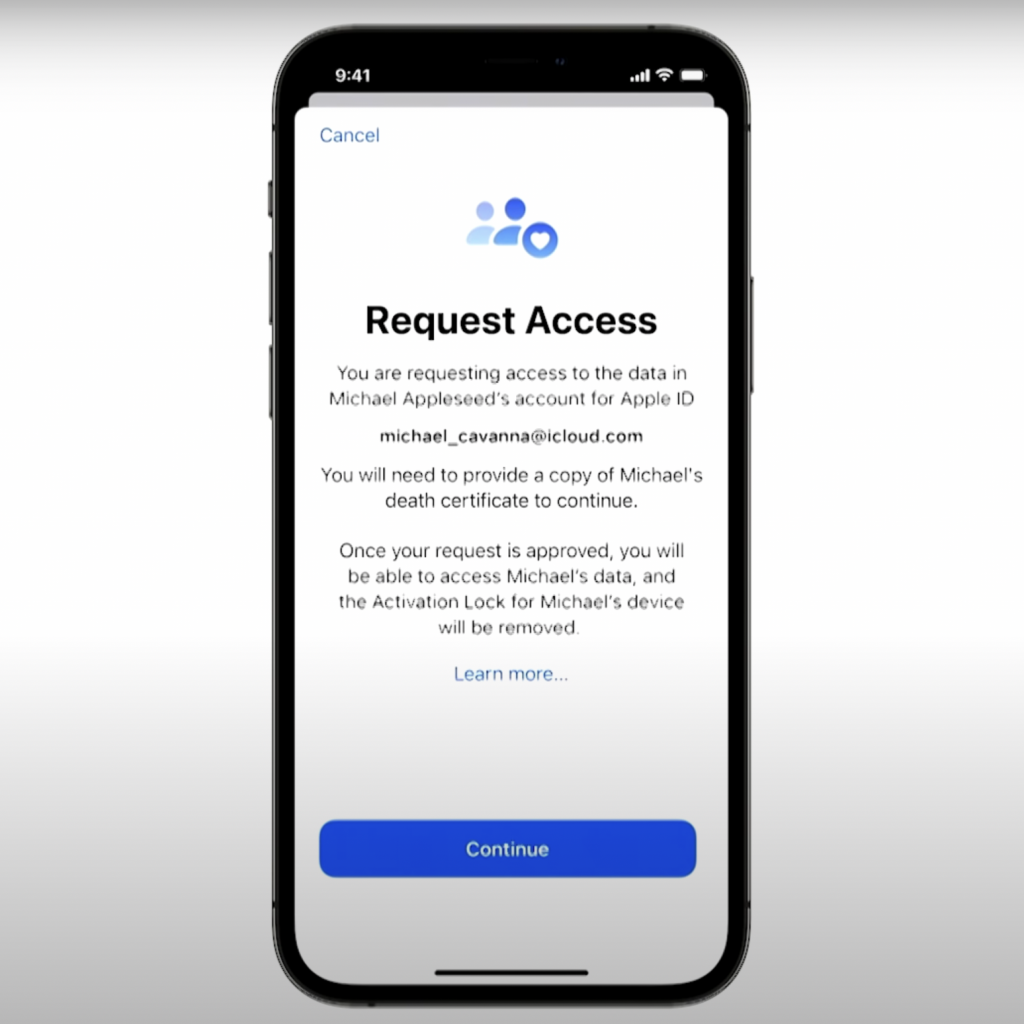 3. Apple's Digital Legacy feature will not include passwords / Keychain
Even though access to online accounts is a critical piece of your overall digital estate, Apple has made it clear that their Digital Legacy feature will not grant access to Keychain or any of your stored passwords. This means you'll need to make other plans (using Easeenet or something similar) to store any passwords you want to pass on to your Legacy Contact or fiduciary. This also means that you'll need to give your next of kin your phone password and passwords to any other devices you want them to have access to, since device access is not included in Apple's Digital Legacy feature- though when I was setting it up, I saw a mention that they will remove the lock on devices, I'd still say better safe than sorry!
4. Apple's Digital Legacy does not include any licensed media
Remember, digital assets are not the same as physical assets. Those iTunes terms-of-service you agreed to (probably without reading)? They said that you don't actually OWN the song or book or movie you "purchased"– you were buying a license to that item, and that license is not transferable and terminates when you die. This means that, once your Legacy Contact has submitted your death certificate to Apple, access to any licensed media will most likely be terminated immediately. Some people have advocated sharing login credentials with their next of kin so that they can continue to access these media objects, though this would be a violation of Apple's terms of service.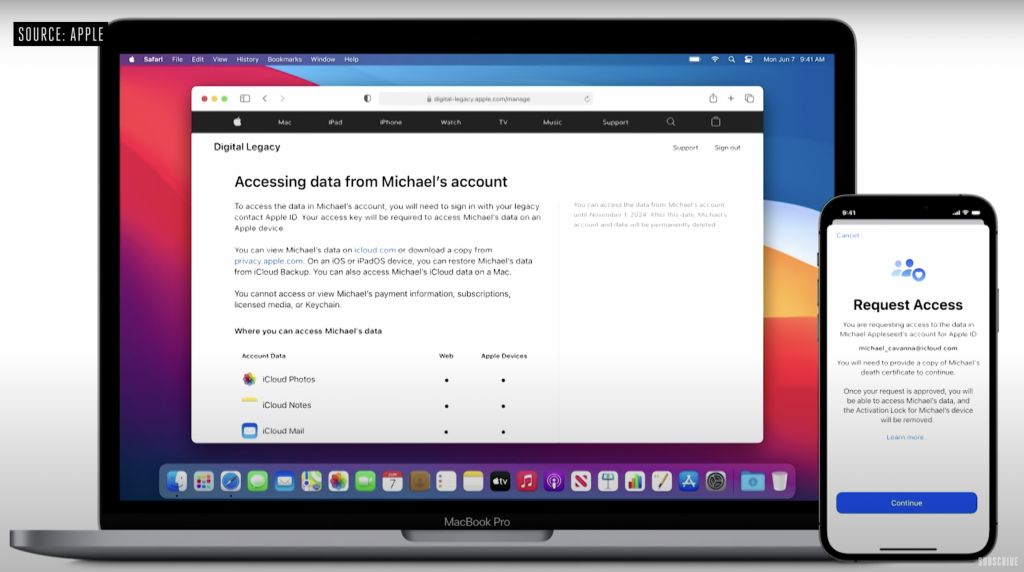 5. Apple's Digital Legacy feature triggers an iCloud expiration date.
Once your Legacy Contact submits your death certificate and Access Key, and requests access to your iCloud, Apple will give them an expiration date for your iCloud account. Presumably, your next of kin will be able to download photos, messages, or other items they want to keep, but that hasn't yet been clarified.
Easeenet is the easiest way to organize and preserve all of your digital estate in a single platform, and effortlessly keep it up-to-date. Start your free 14-day trial today here!