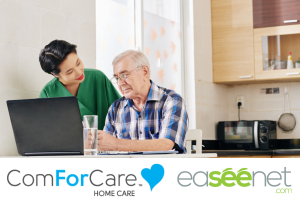 Easeenet.com Announces Partnership with ComForCare to Help Families Protect Their Digital Estate
FOR IMMEDIATE RELEASE
PORTLAND, OR (December 22, 2021) – Digital estate planning tool Easeenet.com, in partnership with in-home care franchisor ComForCare, are supporting families they serve by keeping them from getting locked out of their online lives.
Planning for your digital estate means organizing digital property and assets, and arrangements for how things should be handled after death. As technology has advanced, people are storing more of their data online, from online banking and cryptocurrency to social media accounts and cloud photo storage. Sadly, many often cause unnecessary turmoil and frustration for loved ones to access their online legacy in the event of incapacitation or death, by failing to plan for their digital estate. Without a physical way to find accounts and information, assets and memories are invisible and inaccessible.
Easeenet protects their customers' legacies from digital pitfalls by combining a simple, secure password manager with a digital vault, enabling users to easily organize, protect and pass on their critical life details if anything happens to them.  ComForCare is a franchise company that provides in-home care services such as personal care, meal preparation, from over 200 independently owned and operated locations in the U.S. and Canada. 
Easeenet has partnered with ComForCare to help the families they serve from getting locked out of their loved one's important assets and treasured memories. As part of this partnership, families who sign up for the service through the ComForCare franchise will receive an extended 30-day free trial period and live onboarding assistance. The free trial includes ultra-secure encryption, an organized password manager, document storage and sharing, journaling, legacy contact and browser extensions for Chrome, Firefox and Edge. Users can upgrade to a monthly subscription plan or annual subscription plan to access full features including a mobile app, unlimited password management and expedited email support.
Commenting on the partnership with ComForCare, Easeenet cofounder Erin McCune, said: "Digital estate planning is quickly becoming mainstream, and many families are just realizing its importance. We're excited to help ComForCare provide a user-friendly tool to organize the internet for their families, and keep them from getting locked out when something happens."
Setting up Easeenet is quick and easy. All that is required is the user's name, email address and cell phone number for authentication. Once the email account is verified, they will be asked to download and add an extension, which will automatically prompt them to save their credentials as they navigate the internet. The final step is to choose a legacy contact. This person will have access to the user's information when the inevitable occurs.
ComForCare Vendor Relations Specialist, Alex Contreraz, said: "Caregivers often see firsthand the frustration caused when families lose access to valuable accounts and information. We have partnered with Easeenet to ensure families aren't locked out of their digital estate, and offer peace of mind and eliminate frustration when the inevitable occurs."
For further information or to sign up for an Easeenet account, visit: http://comforcarevault.com/ .
###
Media contact: Erin McCune
Email: erin@easeenet.com