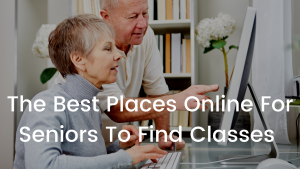 The Best Places Online For Seniors To Find Classes
Seniors are always looking to learn new things and expand their horizons. Whether it's to fill the time or just to be on the cutting edge of knowledge, there are plenty of online resources available today that make it easy to do this without having to leave the house! Here are some places seniors should check out if they want to learn something new, meet new people and expand their world beyond the walls of their home.
Overview of online learning
In online learning, students can typically take courses from their homes and at their own pace, allowing them to find a schedule that best fits their lives. Most of these providers offer a wide variety of courses, from practical life skills to technical skills, philosophical and science-based courses. Some of these courses are free or low-cost, and others offer various levels of accreditation. Here's a list of organizations we reviewed for this article: Coursera, MasterClass, Udemy, SeniorPlanet, GetSetUp, and Wondrium.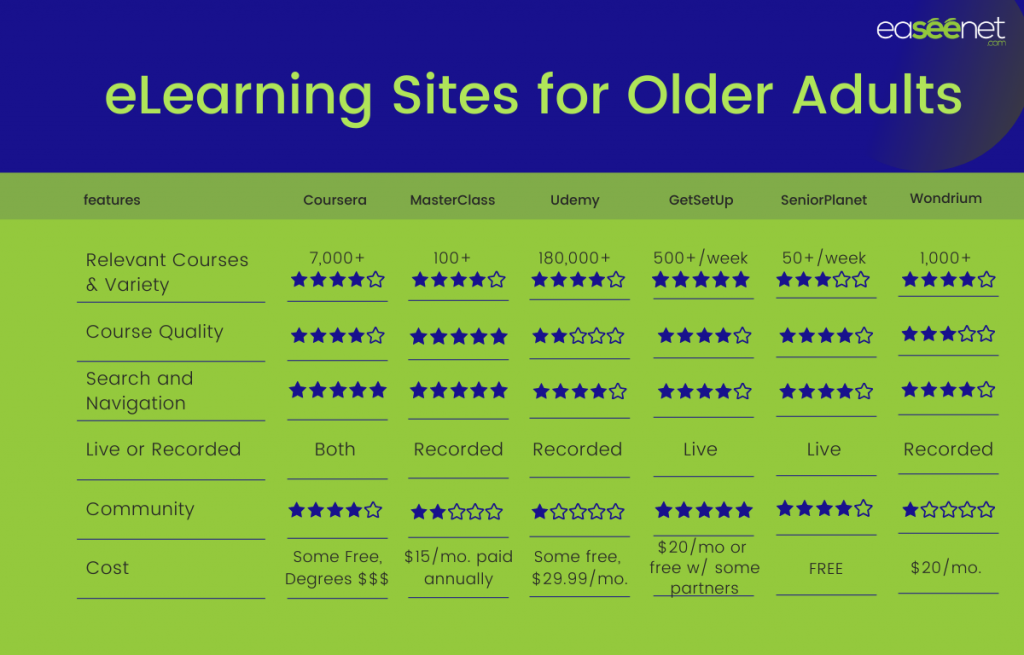 Our review criteria
Variety of courses offered by companies that cater to older adults and/or allow for students of different ages to enroll
Quality – are they better than what you can find on Netflix?
Easy to navigate and search
Style of content (live vs. recorded)
Community engagement
Cost
Senior-focused sites
Some sites, like SeniorPlanet and GetSetUp, are geared specifically around older adults. Both of the sites reviewed offer virtual live classes, rather than prerecorded sessions. Because they're live (virtually), you have to plan your schedule around when classes are offered, are limited to the courses offered at the time, and you can't watch recorded classes. However, you're also able to interact directly with the instructor, ask specific questions, and create a community with your fellow students in real time.
GetSetUp is focused on live, interactive classes, and offers upwards of 500 classes per week. Their focus on the 50+ crowd translates to many courses relevant to aging adults, including step-by-step technology training, courses on aging in place, "mental fitness", and new skills. Their normal price is $20/month, though they do offer some courses for free, and also offer courses through partnerships with some Medicare supplement plans.
SeniorPlanet's target demographic is a bit older – 60+ – and also offers live (virtual) classes, and best of all, they're FREE! Not surprisingly, their course selection is more limited, around 15-20 classes per day, many focused on exercise and specific technology topics. Also, since SeniorPlanet has historically operated in six cities, it's unclear if they will return to in-person programming once COVID restrictions fade.
Online learning for all ages
There are a wide variety of websites touting online courses, though a few consistently show up in lists – Coursera, Lynda, MasterClass, and Udemy. For this article, we aren't reviewing Lynda, since they now tend to focus on training for businesses more than individual users, but we did add Wondrium, referred by an ALCA member.
Wondrium touts "thousands of videos" but they all appear to be passive videos, and each course has multiple videos (some have a handful, some 24+ in the watchlist). These make for very lengthy courses, of varying quality, for $20/month. The advantages include being able to watch across multiple devices, including mobile phones and tablets, and the content has enough variety to appeal to most people, though technology courses were significantly lacking. In comparison to the production quality and interactivity of other options, Wondrium doesn't seem to be as strong an option, especially at the price point offered. However, if a learner is looking for something for just one or two months to keep themselves entertained and engaged on a tablet or phone, this could be a good option.
MasterClass was also recommended by a couple of ALCA members. Unlike other services mentioned so far, it's not free: $15/year is their lowest-cost plan, and you have to pay a full year in advance ($180). Their catalog is also significantly more limited than most of the other options reviewed here, with a little over 100 courses available. However, the course quality is excellent, with high production value and names people will recognize, from political figures to authors to scientists. MasterClass has also rolled out a new program called Sessions, which offers a community and feedback as you navigate a 30-day program with homework assignments, based on some of their popular classes.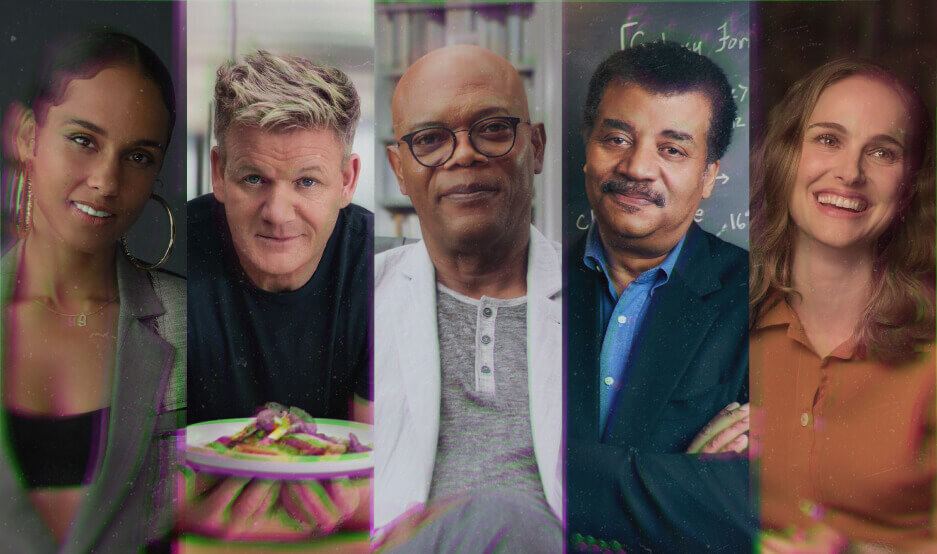 Coursera earned recognition originally for being a free platform, with hundreds of courses offered by top-name universities. Their courses go beyond videos, including resources and knowledge checks, and offer completion certificates. Although many courses are free (1,800+ courses), they do now offer online degree programs that command fees upwards of $10,000. They also offer live session courses, at a variety of price points. Overall, of the platforms reviewed, this site has "something for everyone" with both live and recorded content, free and paid content, and a well-designed search and navigation, plus expansive language support.
Udemy is a fairly well-known, expansive platform for online courses that offers some classes for free, and others with varying costs. Subscriptions are $29.99/month, and courses are prerecorded and video-based. Their catalog is certainly the most expansive of the sites reviewed, with over 180,000 courses, but the quality varies widely, and many courses seem similar (or even inferior to) equivalent content available on YouTube. Some courses do offer downloadable materials and have assignments, along with completion certificates, but for the money, most older adults would likely be better served by other options.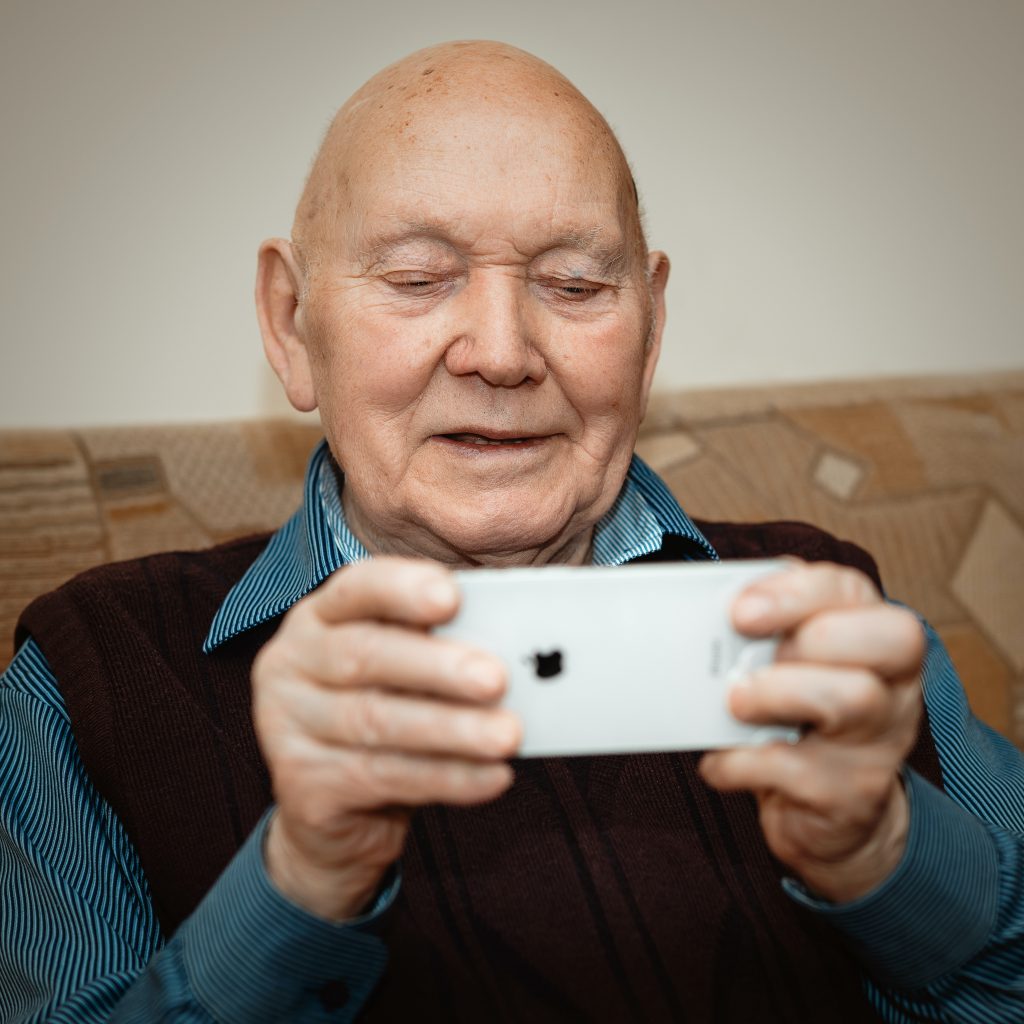 Summary
For recorded content, MasterClass was the clear winner based on production value, but Coursera has them beat by far in terms of variety and pricing, with an abundance of free course options available. For live courses, SeniorPlanet was the winner on cost (FREE!) while still creating community, while GetSetUp has made a strong name for itself with a strong community presence and a wide variety of available courses. If you can get a free license to GetSetUp through one of their partners, most older adults will quickly find educational value and a newfound community. Udemy and Wondrium seem to be more comparable to YouTube content in many cases, and a paid subscription is tougher to justify.
Easeenet strives to be a resource for adults of all ages, to help you use technology better (and keep from locking your family out of your life if anything happens to you!) Learn more here.